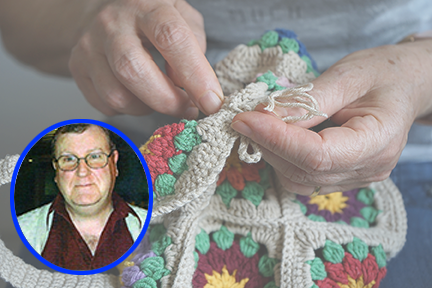 The Beinke Bequest – Financial Assistance if you have to travel for treatment or care
If you have an asbestos disease and live outside the metropolitan area, AVA may be able assist you and your family with the costs of travel and accommodation. This could include overnight stays, petrol, taxi fares or similar.
These funds are available due to the generosity of Peter Beinke, who made a bequest to AVA in his will to help with expenses for people diagnosed with an asbestos related disease who had to travel to access medical treatment or legal advice. Peter was an Adelaide man who undertook an electrical apprenticeship in the 1970s. While working as an electrician he was exposed to asbestos, which eventually lead to his death from mesothelioma in 2014.
Peter loved to crochet and often brought his latest project into the AVA office so he could keep his hands busy while chatting to others. He was always happy to teach others how to wield a crochet hook too! AVA volunteers attended his funeral service where family members and friends joined in celebrating his life. There was a big tub of beanies at his funeral, all crocheted by Peter, as mementos for people to take away.
Peter understood the added expense for patients who had to travel to Adelaide for treatment, in particular the cost of travel and accommodation. His bequest to AVA was intended to help in such circumstances. If you think you could be eligible for financial assistance from the Beinke Bequest, please contact us.